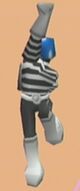 "Lug" Messing is one of the dancers backing up Jaguar in Space Channel 5. He's a member of the Space Pirate Broadcasting Station. He's one of the two crooning Jaguar's name when he strides onto the scene.
In-game Profile
Edit
"Space Pirate
Favorite ice cream: Caramel
He is responsible for singing in a charming baritone when Jaguar appears."
Ad blocker interference detected!
Wikia is a free-to-use site that makes money from advertising. We have a modified experience for viewers using ad blockers

Wikia is not accessible if you've made further modifications. Remove the custom ad blocker rule(s) and the page will load as expected.