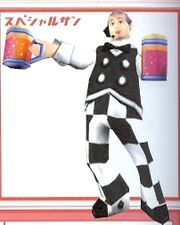 Boozer is a man with a unique balancing talent in Space Channel 5 Part 2. He's revealed in Extra Report 1 by Shadow during the second group of dance victims.
In-game Profile
Edit
"Age: 57. Waiter on the Space Symphony. Boasts the ability to carry 36 beer mugs simultaneously, but sadly, there aren't too many opportunities to show such skills."
Although he doesn't appear in regular mode, Boozer appears in the final cinematic regardless when Pudding says, "You're the one who isn't happy!" He's at the lower left part of the scene.
Ad blocker interference detected!
Wikia is a free-to-use site that makes money from advertising. We have a modified experience for viewers using ad blockers

Wikia is not accessible if you've made further modifications. Remove the custom ad blocker rule(s) and the page will load as expected.