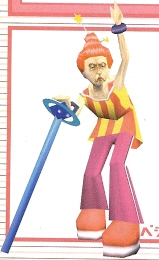 Brandy Smith is an elderly civilian in the Space Channel 5 series. She still likes to live things up, and not even evil, dance-based plots are going to get her down.
Space Channel 5
Edit
Brandy Smith is just minding her own business when the Morolians up and hypnotize her into dancing. Aside from being shot at by a Dancing Beam, she seems okay when Ulala saves her.
In-game Profile
Edit
"Space Grandma
Favorite treat: Nuts
An energetic and playful grandmother, she likes to hang out with Space Hippies. Her daughter always worries about her."
Space Channel 5 Part 2
Edit
Brandy Smith's name is changed to "Space Granny" in the sequel. She's aboard the Space Symphony when the Rhythm Rogues invade, leaving her controllably grooving to the beat.
In-game Profile
Edit
"Was the singer/guitarist for the now-legendary space rockers, the "Scan-teens". She is still in good health, and proves it with an occasional all-night dance with the local hippies."
Ad blocker interference detected!
Wikia is a free-to-use site that makes money from advertising. We have a modified experience for viewers using ad blockers

Wikia is not accessible if you've made further modifications. Remove the custom ad blocker rule(s) and the page will load as expected.