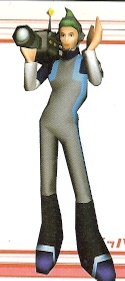 Cameraman (Channel 1) is an old acquaintance of Shinichiro Tachibana in Space Channel 5 Part 2. He is first seen in the opening cut-scene for Report 1, talking with some other people before the Rhythm Rogues attack.
At the beginning of Report 2, he's with Reporter Tachibana covering the scoop on President Peace being kidnapped by the Rogues.
In-game Profile
Edit
"Has known Reporter Tachibana for two decades, and depends on him more than anyone else at the station."
In the French version, the game profile states that Cameraman (Channel 1) is a girl.

It also states that she loves to catch the scoop before others, with her space motorcycle.
Ad blocker interference detected!
Wikia is a free-to-use site that makes money from advertising. We have a modified experience for viewers using ad blockers

Wikia is not accessible if you've made further modifications. Remove the custom ad blocker rule(s) and the page will load as expected.