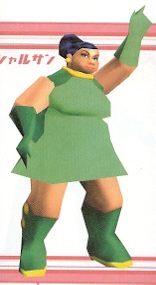 Chorus Lady is a passenger on the Space Symphony in Space Channel 5 Part 2. Forced to dance by the Rhythm Robots, she is in need of rescue when a certain reporter struts onto the scene.
In-game Profile
Edit
"The haughty owner of the Space Office Building. She is a singer at the Dark Nest pub on B-2 of the same building. She is currently on a relaxation tour of the open-air shopping mall."
Strangely enough, Chorus Lady is not present to help Ulala in the final battle against Purge the Great. Big Momma seems to replace her.
Ad blocker interference detected!
Wikia is a free-to-use site that makes money from advertising. We have a modified experience for viewers using ad blockers

Wikia is not accessible if you've made further modifications. Remove the custom ad blocker rule(s) and the page will load as expected.