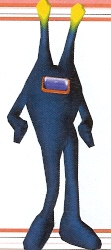 Clork is a Morolian Leader in Space Channel 5.
In-game Profile
Edit
"Morolian Leader
Always in the front lines, his troops fear him, not knowing that deep down he yearns to be a female. He is very sensitive."
Clork and Brack are the only Morolian Leaders from Space Channel 5 that have profiles.

Based on that, it can be speculated that the second Morolian Leader on drums helping out Texas in Part 2 might be Clork.

The Gyun Gyun Guide refers to him as Taiko Man. The Sugoku Sugoi Guide refers to him as both Taiko Man and Leader Moro.
Ad blocker interference detected!
Wikia is a free-to-use site that makes money from advertising. We have a modified experience for viewers using ad blockers

Wikia is not accessible if you've made further modifications. Remove the custom ad blocker rule(s) and the page will load as expected.