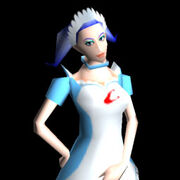 Jodie Bundt is a person forced to dance on the Luxury Spacecraft G during the Morolian invasion in Space Channel 5. As a waitress, she is always seen with her plate and a glass on it.
In-game Profile
Edit
"Waitress
Working in the ship's Dining Hall, she is saving all her money to eventually purchase a very large gold brick. Nobody knows why."
Her hairstyle is quite similar to Ulala's, consisting of two ponytails.
She has the Luxury Spacecraft G logo printed on her breast. The same logo can be seen outside the spaceship, and also on the floor of the Observatory Platform.
She is one of two Earthlings to have a unique strut to them. (The other being the Spaceport 9 workers)
Ad blocker interference detected!
Wikia is a free-to-use site that makes money from advertising. We have a modified experience for viewers using ad blockers

Wikia is not accessible if you've made further modifications. Remove the custom ad blocker rule(s) and the page will load as expected.