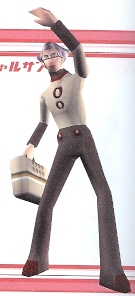 Nice Middle is a passenger aboard the Space Symphony ship in Space Channel 5 Part 2. He's taking it easy when suddenly Rhythm Robots show up with Shadow, forcing him to dance uncontrollably.
In-game Profile
Edit
"Space Art Dealer. He deals with beauty-real & fake. Formerly the curator of a famous museum, but recently went independent."
Ad blocker interference detected!
Wikia is a free-to-use site that makes money from advertising. We have a modified experience for viewers using ad blockers

Wikia is not accessible if you've made further modifications. Remove the custom ad blocker rule(s) and the page will load as expected.