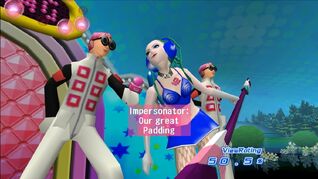 "Good evening, everybody. It's me, Padding!"
-Padding
Padding is an impersonator of Pudding in Space Channel 5 Part 2. She is only revealed in Extra Mode with some impersonators of Pudding's bodyguards.
She looks exactly like Pudding and plays the exact same role as her in Extra Mode with very little differences in dialogue other than her name being said by someone.
Padding's true face is never seen, even in her profile. Being 48 years-old though, maybe that would be for the best.
"A comedienne who recently added an impersonation of Pudding to her act. She is 48 years old. She stars in song and dance shows at the Space Health Center." - in-game profile
Ad blocker interference detected!
Wikia is a free-to-use site that makes money from advertising. We have a modified experience for viewers using ad blockers

Wikia is not accessible if you've made further modifications. Remove the custom ad blocker rule(s) and the page will load as expected.