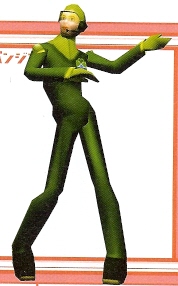 The Space Park Staff Worker is a caretaker of the flora at Space Park in Space Channel 5 Part 2. He and other workers in the same garb appear at Fountain Square dancing uncontrollably due to the Rhythm Robots' interference.
All of the rescued workers dance in the waltz battle between Ulala and Pon Piriri in the Greenhouse.
In-game Profile
Edit
"The gardener who takes care of the plants in Space Park. Second to no one in his use of the shovel and the watering can."
The French in-game profile states something else about the Space Park Staff Worker: "On les entend parfois dire aux fleurs "C'est l'heure de la photosynthèse ma chère!" ("Sometimes, they can be heard telling to the flowers "Its photosynthesis-time my dear!")
Ad blocker interference detected!
Wikia is a free-to-use site that makes money from advertising. We have a modified experience for viewers using ad blockers

Wikia is not accessible if you've made further modifications. Remove the custom ad blocker rule(s) and the page will load as expected.