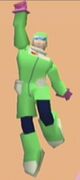 Terrence Bigoon is a victim of the Morolian Dance invasion. He's found in the Luxury Spacecraft G's Garbage Room by Ulala in Space Channel 5.
In-game Profile
Edit
"Mechanic
Favorite Meat: Steak.
A solid man with a booming voice, nobody suspects that his house is filled with lace."
Terrence Bigoon is only available for saving in Extra Mode.
Ad blocker interference detected!
Wikia is a free-to-use site that makes money from advertising. We have a modified experience for viewers using ad blockers

Wikia is not accessible if you've made further modifications. Remove the custom ad blocker rule(s) and the page will load as expected.